Mom2Mom Podcasts
Join our panel of moms for a monthly chat about the challenges of raising active kids. Click on an episode to listen to the podcast, read the show notes or comment.
Featured Podcasts
Episode 13: Kids & Nature
Jana (mom of 1) and Melissa (mom of 2) talk about kids and nature: why they need it and how we can make sure they get it. They chat with host Tenille Lafontaine about: why ...
Listen Now
Mom2Mom Articles
Featured Articles
Le May Doan says unstructured play matters too
We interview Catriona Le May Doan on raising active kids.
You wouldn't think much would phase a former Olympic speed skater, but Catriona Le May Doan admits she's met her match. She recently returned to ringette and sta...
Read Now
Mom2Mom Videos
Featured Video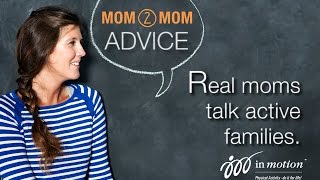 Mom2Mom | Raising Active Families
We invited moms into our video booth to share their tips Mom2Mom. Here's what they had to say about raising active families.
Watch Now